Vegetables in this recipe can be swapped out for any veg you have that needs using up!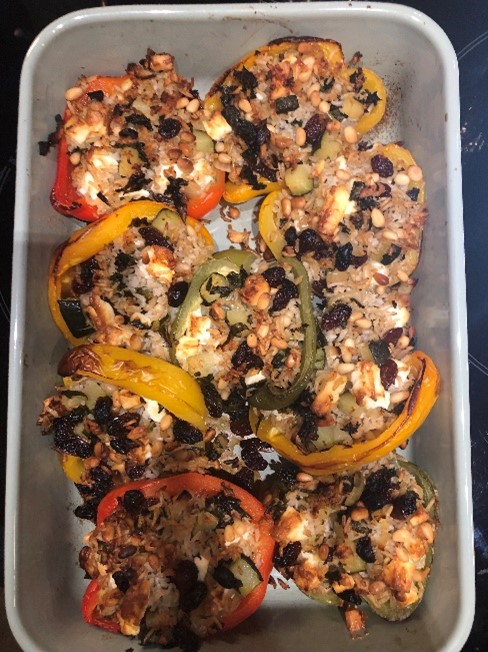 Ingredients (serves 1, adjust amounts accordingly):
1 whole red, yellow or green pepper
30g wholegrain rice
1tsp olive oil
¼ large white onion (about 30g)
1/3 courgette (about 40g)
60g kale
30g sultanas
10 pine nuts
1 tbsp feta cheese
Prep time: 30 mins
Cook time: 30 mins
Method:
Preheat the oven to 200oc/Gas mark 6/180oc fan.
Place the rice into a pan and add double the volume of water. Bring to the boil then turn down to a low simmer cooking with a lid on for 30-35 minutes.
Meanwhile, finely chop the onion then add to a pan with the olive oil. Cook until softened.
Wash the vegetables.
Halve and de-seed the pepper then set aside.
Chop or grate the courgetti and set aside.
Finely chop the kale and set aside.
Drain the rice once cooked.
In a bowl, mix together the onion, courgette, kale and sultanas with the drained rice, season with salt and pepper and add your favourite chopped herbs if liked.
Place the pepper halves in a greased oven-proof dish so they fit snuggly.
Carefully fill the pepper halves with the rice mix and top with the pine nuts and crumble over the feta cheese.
Cook in the oven for 30 minutes – check half way and cover with foil if the sultanas and pine nuts are browning too quickly.
Macros breakdown per serving…
Calories – 290kcal
Carbs – 52.6g
Fat – 5.9g
Protein – 9.3g
4 of your 5 a day
Give it a try and tag us in your cooking attempts – READY, STEADY…COOK!