Try this beef dish with your choice of rice or noodles!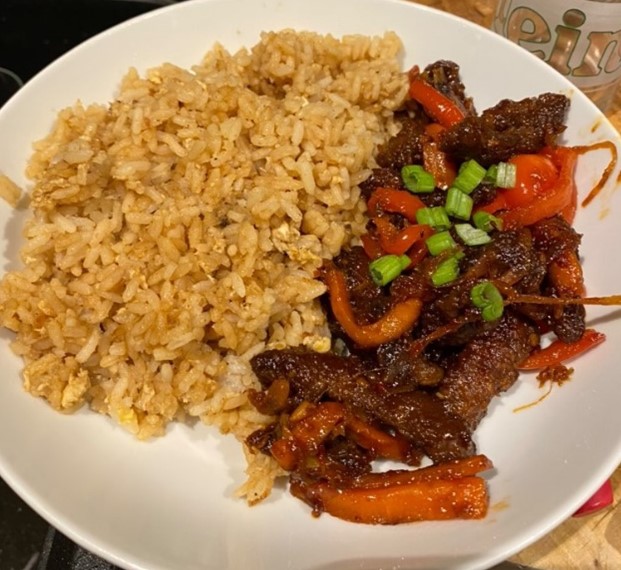 Ingredients (serves 3 – adjust amounts accordingly):
Beef:
350g stir fry beef strips
Vegetable oil (100ml for shallow frying)
3tbsp cornflour
2tsp Chinese 5 spice
1tsp salt
1tsp white pepper
Stir fry veg:
1 tbsp sesame oil
2 garlic cloves
1 inch of ginger
2 red peppers
4 spring onions
1 large carrot
1 red chilli
Sauce:
3tbsp white wine vinegar
2tbsp honey
2tbsp soy sauce
2tbsp sriracha (add/ takeaway depending on how spicy you like it)
1tbsp ketchup
Rice or noodles, you're choice!
Prep time: 20 minutes
Cook time: 20 minutes
Method:
First things first, get started by slicing the red pepper, red chilli, and spring onions thinly, match sticking the ginger and carrot and crushing both garlic cloves. Leave this until later.
Measure out 100ml of vegetable oil and put it into a wok, turn the heat up high and begin to prepare your beef (don't use olive oil, it can't get hot enough to fry off).
In a bowl, add 3tbsp of cornflour, 2tsp of Chinese five spice, 1tsp of salt and 1tsp of white pepper, mix the beef into this until fully coated.
Place the beef into the hot oil, keep the beef moving and cook for 4-5 minutes or until crispy and browned.
Once cooked, take the beef out of the oil and place on kitchen roll, leave to dry in a bowl, pour away oil until you have around 1tbsp of vegetable oil left, add 1tbsp of sesame oil and continue to heat on a medium heat.
Once the oil is heated through, add the veg to the pan and fry for 2-3 minutes.
Whilst the veg is frying, mix the sauce ingredients together, then pour on top of the frying vegetables.
Leave this to bubble for 2 minutes, stirring occasionally to thicken the sauce, then re-add the crispy beef.
Mix the ingredients through until the beef is well covered, lower the temperature and begin cooking the rice or noodles to packet instructions, remember to stir occasionally.
Once the rice/noodles are done, plate up and top with the stir fry.
Macro breakdown per serving…
Calories – 511
Carbs – 39.6g
Fat – 24.5g
Protein – 34g
Give it a try and tag us in your cooking attempts – READY, STEADY…COOK!