Try this quick and easy healthy dinner that includes 2 of your 5-a-day!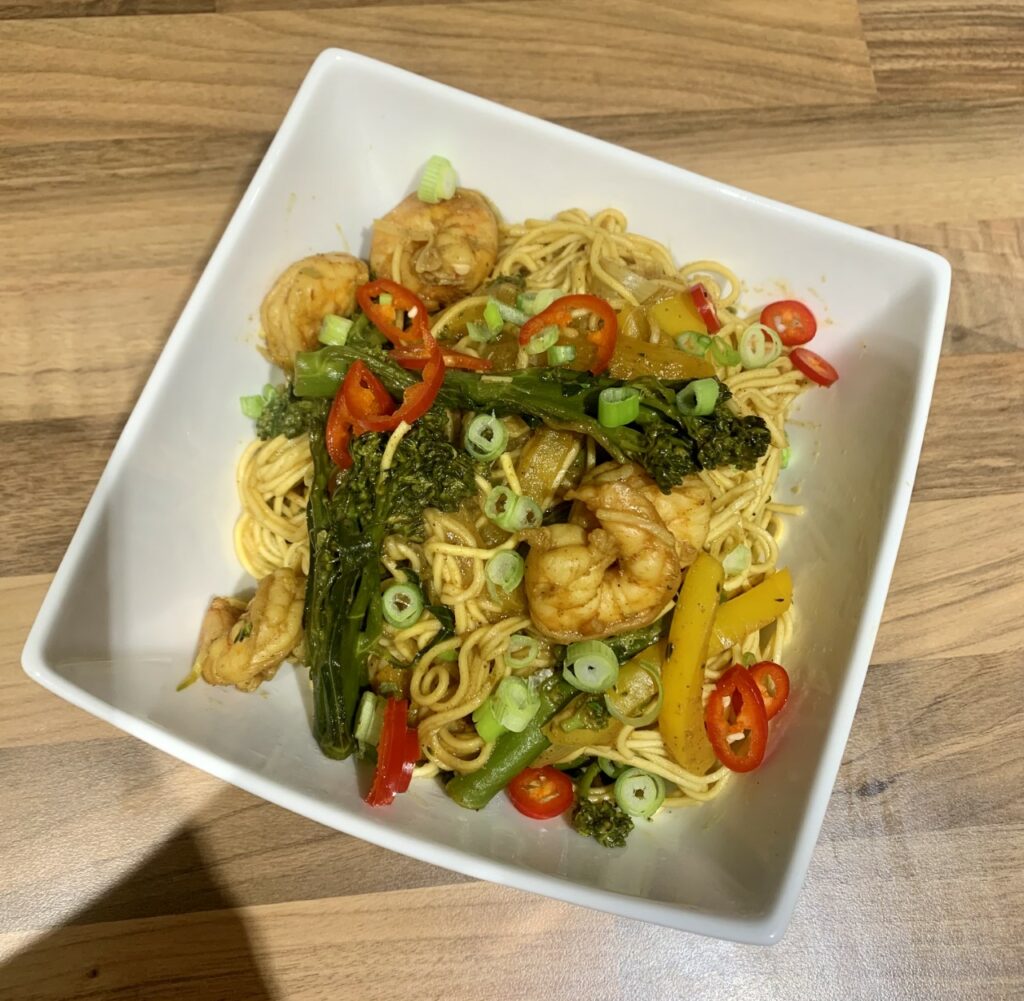 Ingredients (serves 2, adjust amounts accordingly):
1 red chilli
2 spring onions
15ml soy sauce
160g tenderstem broccoli
10ml toasted sesame oil
1 yellow pepper
1 tbsp curry powder
15g ginger & garlic paste
2 fine egg noodle nests
212g jumbo king prawns
Ready in 10mins!
Method:
Boil the kettle and while you wait, heat some vegetable oil in a pan and chop the spring onion whites into batons, yellow peppers into thin strips and tenderstem broccoli in half ready
Once the pan is hot add the ginger & garlic paste, spring onion batons, pepper strips and halved tenderstem broccoli with a splash of boiled water
Add the curry powder and soy sauce and cook (covered) until the vegetables begin to soften (approx. 2mins)
Meanwhile, add the noodle nests to a large bowl and completely cover them with boiled water. Stir to separate the noodles then leave to soak for approx. 4mins or until softened
Finely slice the red chilli and the spring onion greens
Drain the jumbo prawns and add them to the pan then cook for a further 6-7mins or until the vegetables are tender and the jumbo prawns are cooked
Drain the noodles (keep a cup of starchy water to one side) and add them to the pan with the toasted sesame oil and 3-4tbsp of the starchy water
Stir it all together until everything is well coated
Serve up and garnish with the red chilli and spring onions
Enjoy!
Macros breakdown per serving…
Calories – 430kcal
Carbs – 53g
Fat – 10g
Protein – 28g
Give it a try and tag us in your cooking attempts – READY, STEADY…COOK!