Try this delicious pasta dish that is a great vegetarian option!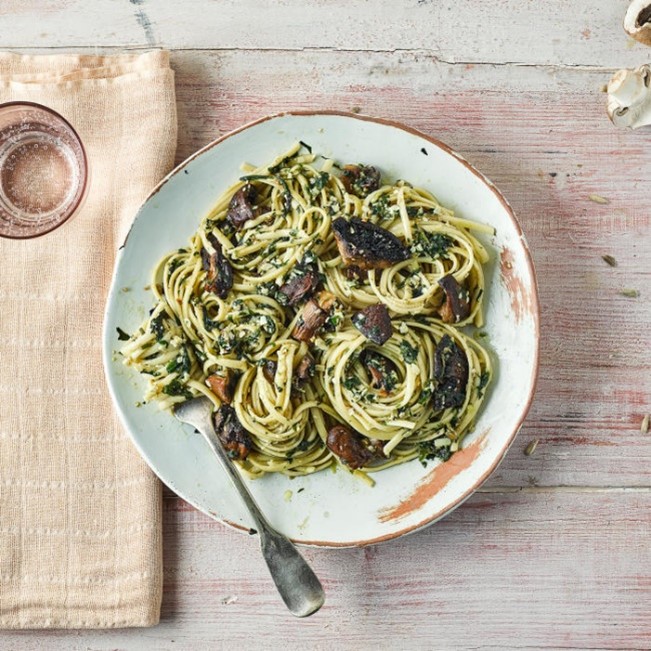 Ingredients (serves 2, adjust amounts accordingly):
2 garlic cloves
200g linguine
150g portobello mushrooms
30g 3 seed mix
80g mature cheddar
40g basil
80g chestnut mushrooms
Method:
Preheat the grill to a high heat, then boil a kettle.
Rip the portobello and chestnut mushrooms into bite-sized pieces onto a baking tray, drizzle with olive oil then season generously with salt and pepper.
Put the tray directly under the grill and cook for 12-15 min or until they're caramelised.
Add the 3 seed mix to a large pot over a high heat and cook for 1-2 min or until toasted.
Once toasted, set aside on a plate.
Return the pot to a high heat and add the linguine with plenty of boiled water with a pinch of salt, bring to the boil over a high heat and cook for 8-12 min or until cooked.
Once cooked, drain and reserve a cup of the starchy cooking water for later.
Meanwhile, peel and finely chop (or grate) the garlic. Chop the basil finely, including the stalks . Grate the cheddar cheese finely.
Grind the chopped basil, chopped garlic and a pinch of salt in a pestle & mortar to form a smooth paste. Add 2-3 tbsp olive oil and mix thoroughly.
Add the grated cheese to the basil with 2-3 tbsp olive oil. Season with a generous pinch of salt and pepper and mix thoroughly.
Return the drained linguine to the pot with a splash of your reserved starchy water.
Stir the pesto and half of the caramelised mushrooms through and cook for 1 min or until the pesto has coated the pasta and the cheese has melted.
Serve the linguine in bowls and garnish with the toasted 3 seed mix. Top with the remaining caramelised mushrooms.
Macro breakdown per serving…
Calories – 598kcal
Carbs – 76.0g
Fat – 22.3g
Protein – 27.0g
Give it a try and tag us in your cooking attempts – READY, STEADY…COOK!