If you have a gluten allergy or intolerance and are suffering from the symptoms of histamine overload, you may be struggling for ideas of what to eat. This recipe uses gluten free and low histamine ingredients. It is quick, easy and extremely tasty. It can also be made using regular ingredients for those who don't have to exclude certain foods from their diet.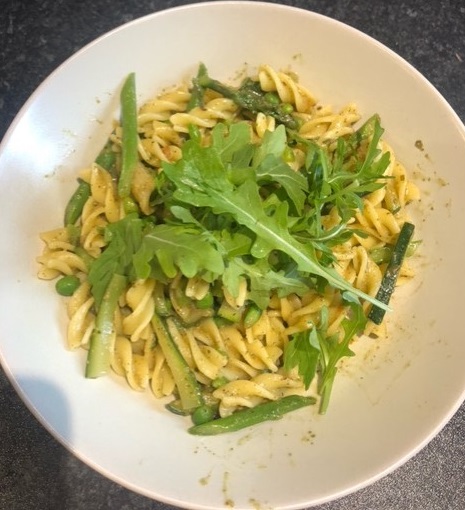 Ingredients (serves 2, adjust amounts accordingly):
250g gluten free pasta
5 spears asparagus thinly sliced
1 small courgette thinly sliced
150g frozen peas
2 tbsp pesto (see recipe below for low histamine)
600ml water
1 gluten free vegetable stock pot (Knorr)
Olive oil
Method:
Bring the water to the boil and cook the pasta according to the directions. Drain but reserve the cooking water.
Return half the cooking water to the pan and add the stock pot. Bring to the boil.
Add the asparagus and courgette to the pan. Cook for one minute, then add the peas and cook for a further 3 minutes.
Add the pesto to the pan and stir well, then mix in the pasta.
Serve garnished with a drizzle of olive oil and some rocket leaves.
For a regular version of this recipe, use your normal pasta, pesto and you can also add spinach leaves to the mix, then top with parmesan cheese.
Low Histamine Pesto recipe:
4 large roasted garlic cloves
1 large handful sunflower seeds
1 large handful pumpkin seeds
2 large handfuls fresh basil leaves
2 tbsp olive oil
Toast the sunflower and pumpkin seeds in a pan until they have slight colour. Add all ingredients to a processer and blend well. Add more oil if necessary.
You can add chicken to this dish to increase your protein intake if you wish!
Macro breakdown per serving…
Calories –  399kcals
Carbs – 61.5g
Fats – 12.6g
Protein – 12g
Give it a try and tag us in your cooking attempts – READY, STEADY…COOK!