Try this healthier fake away option – still just as tasty but much better for you!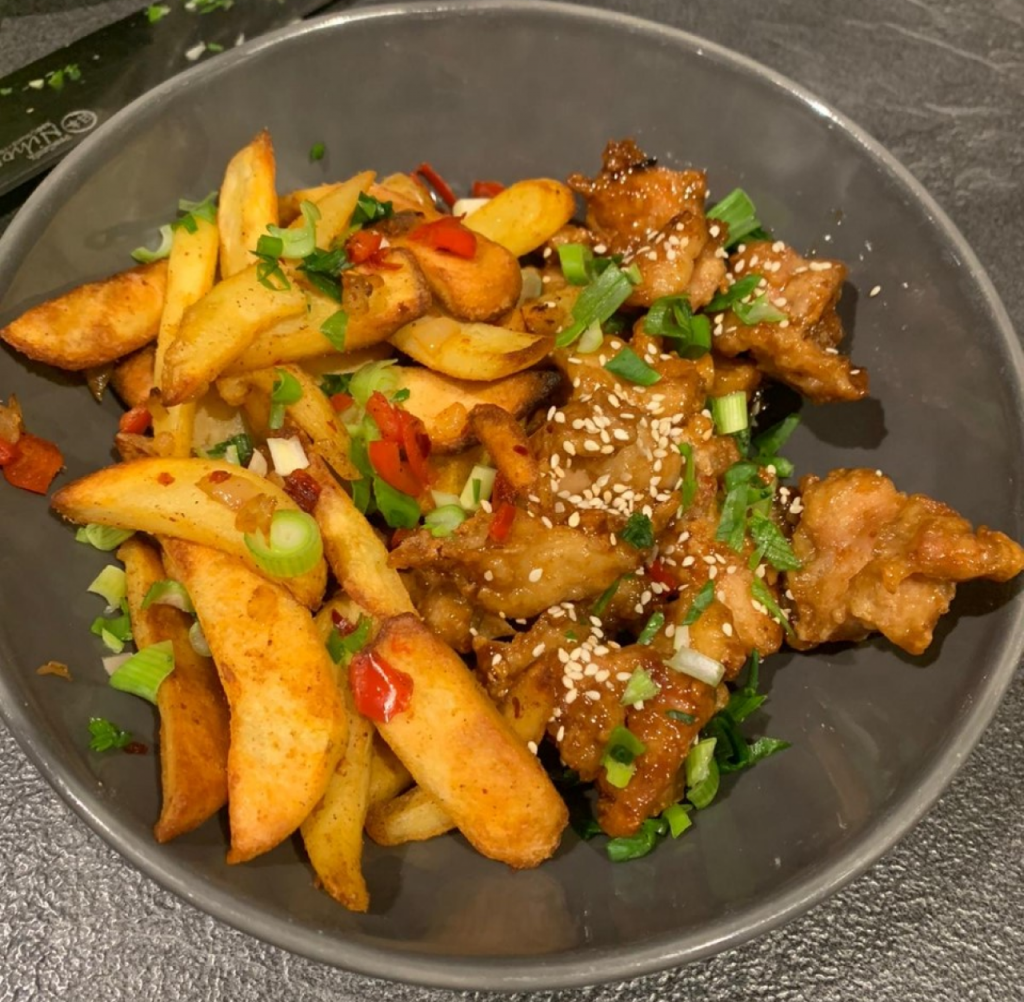 Ingredients (serves 4 – adjust amounts accordingly):
Honey soy chicken:
1kg chicken thigh fillets
65g plain flour
65g cornflour
1tbsp salt
2tbsp garlic granules
125ml water
Oil for frying
80g butter
2tbsp clear honey
2tbsp soy sauce
Spring onions and sesame seeds (optional)
Salt and pepper chips:
Oven chips (whole bag)
1 onion
1 red pepper
1 chilli (red or green)
2tsp salt
2tsp Chinese 5 spice
1tsp of chilli flakes (add more if you prefer more spice)
½ tsp sugar
Method:
Preheat oven to required heat for chips, cut chicken thigh fillets into bite size pieces, finely chop onion, pepper, and chilli.
Place chicken into a large bowl, add the plain flour, corn flour, salt, garlic granules and water and mix so chicken is well covered.
Put chips onto a baking tray (maybe 2) and put into oven to cook
Heat oil in a pan (enough to shallow fry) or deep fat fry at 175 degrees if you have a fryer, cook for around 4-6 minutes, and sit to rest on a plate
Heat butter in a different frying pan, once melted add honey and soy sauce and mix on a medium heat until thick, place chicken in an oven proof dish and cover in glaze, then sit in oven to keep warm
In a clean large frying pan, add a little oil, once heated add in the onion, pepper and chilli and stir to coat in oil, once onions start to caramelise, add sugar, salt, chilli flakes, and Chinese 5 spice to the vegetables and mix, then fry for a further minute
After this, remove cooked chips from the oven and add to the mixed vegetables, cook on a low heat constantly mixing to coat the chips well.
Once done, take out the chicken from the oven and serve up onto a plate with the chips, then add the optional spring onions and sesame seeds on top!
Enjoy!
Calorie comparison…
Salt and pepper chips – 496 calories per portion
Honey soy chicken – 384 calories per portion
Total plate = 880 calories
Vs Chinese
Salt and pepper chips = 910 calories per container
Honey chicken = 656 calories per container
Total = 1566 calories
Give it a try and tag us in your cooking attempts – READY, STEADY…COOK!