This Chilli Shrimp Linguine is a simple and healthy dish that won't have you spending hours in the kitchen preparing it. It also has a good balance of macronutrients (carbs, fats and proteins).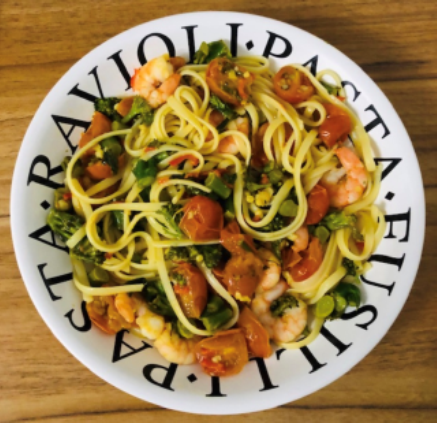 Ingredients (serves 1 – adjust amounts to serve more):
80g dried linguine
Handful sliced tenderstem broccoli
2tsp olive oil
1 clove crushed & peeled garlic
1/2 red chilli finely chopped
100g halved cherry tomatoes
175g deveined raw king prawns
Method:
Bring a large pan of salted water to the boil, add the linguine and cook for 5 minutes.
Add the sliced broccoli, cook for a further 2 minutes then drain, reserving a little of the cooking water.
Meanwhile heat the oil in a large frying pan over a medium heat. Add the garlic and chilli, fry for 2 minutes then increase the heat and add the tomatoes.
Cook for 3 minutes until softened then add the prawns.
Cook for a couple of minutes until the prawns have all turned pink then tip in the linguine, broccoli and a splash of the cooking water.
Toss everything together then tip into a bowl and enjoy!
Macro breakdown per serving…
Calories – 450 kcals
Carbs – 36.6g
Fats – 14.3g
Protein – 43.7g
Give it a try and tag us in your cooking attempts – READY, STEADY…COOK!