Low calorie, high protein, easy to make, great as a family meal or meal prep!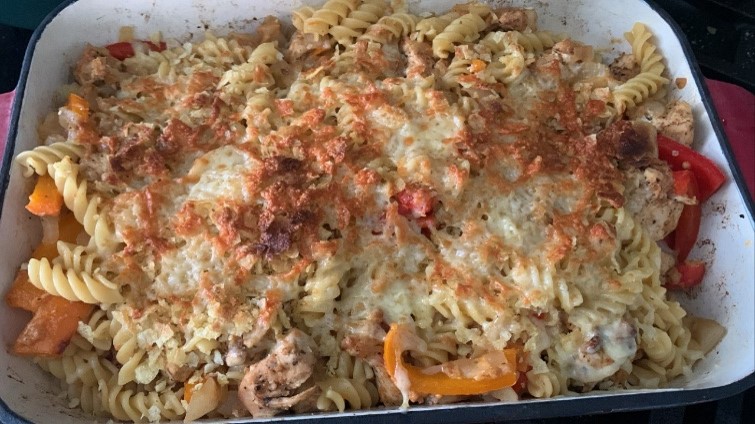 Ingredients (serves 4 – adjust amounts accordingly):
225g pasta
600g raw chicken breast
3tsp mild chilli powder
2tsp dried basil
2tsp garlic powder
4tsp ground cumin
2tsp cayenne pepper
2tsp paprika
Large White onion
Red pepper
Yellow pepper
300ml skimmed milk (or your preferred)
50g light mozzarella
Walkers ready salted (1 25g bag)
Cheddar cheese 30g
Prep time: 20 minutes
Cook time: 20 minutes
Method:
Preheat oven to 200c Fan.
Dice 600g of raw chicken breast into small pieces, season with 3tsp chilli powder, 2tsp basil, 2tsp garlic powder and 2tsp of the ground cumin. Rub together and put in preheated oven for 20 minutes. Salt and pepper if you'd like.
Boil pasta to instructions on packet.
Chop onions finely and slice bell peppers. Place the vegetables in a frying pan and fry over a medium heat (stir frequently to avoid burning and sticking).
Season with 2tsp of cayenne pepper, 2tsp of paprika and 2tsp of ground cumin and stir into vegetables.
Add 300ml skimmed milk and 50g of light mozzarella cheese (chop it into very small pieces).
Simmer over a high heat for 5 minutes and then add cooked chicken and pasta.
Give it a good stir to spread the flavour.
Place into an oven dish, crush the pack of walker crisps so smashed into tiny pieces, then spread evenly over the top of your pasta.
Grate 30g of cheddar cheese and spread that over the top of the pasta also, place under the grill at a medium heat for around 5 minutes or until cheese has melted and is golden.
Take out and portion equally, enjoy this as a family meal or meal prep for the week!
Macro breakdown per serving…
Calories – 412
Carbs – 32.3g
Fat – 9.8g
Protein – 49.8g
2 of your 5- a- day per serving
Give it a try and tag us in your cooking attempts – READY, STEADY…COOK!