2011 Lisa's channel Swim – Duchenne Muscular Dystrophy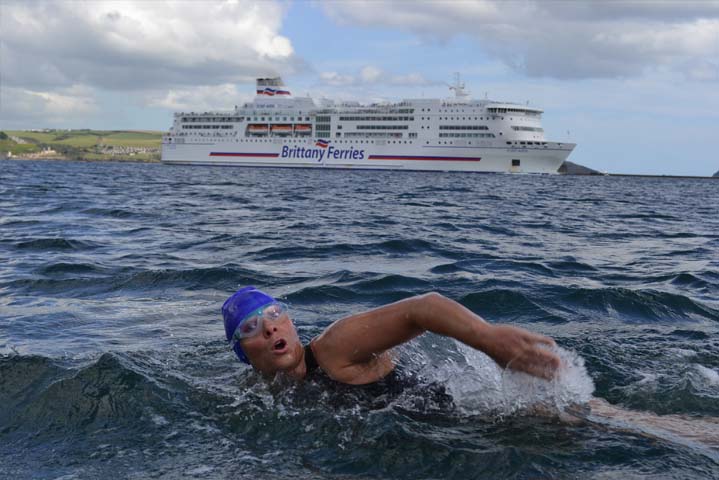 Inspired by her mum, owner of tfd Lisa Auchinvole started her channel swim journey by committing to her school friend that she would raise as much money as possible for the organisation committed to finding ways to cure Duchenne Muscular Dystrophy, a devastating disease affecting her son, Adam.  Training included strength training in the gym and Endless pool at tfd, weekend lake or sea swimming with the help of Roly from RJC Construction and Wantage Diving Club.  The rules of the swim from the Channel Swimming Association were that only a swimming costume (without legs), one swimming hat and goggles could be worn.
"During the real swim, I could not touch the boat or any person otherwise I would be disqualified.  There were no warnings that the smell and taste of the boat diesel would make you feel sick or that the jellyfish were out to get you!  Swimming from Portland head to Lulworth cove & back was a lovely way to spend a Sunday, although not once did I forget who I was doing it for.  Any shoulder aches, puffy eyes or white cold fingers were put right back into perspective whenever I thought of Adam and his family.  In June, I completed the 6-hour qualifying swim in Lake Windermere and in August, supported by my family and friends, I completed a 12-hr non-stop swim in the cold Endless Pool at tfd.  All that was left was to wait for a call from my Pilot, Fred Mardle confirming when we were setting off.  The weather was windy and wet that week and the 3 day wait seemed like months.   At Folkestone harbour, we waited for the tide to come in then set off for the starting point where I had to swim ashore before being given the signal to enter the water.  All very strict you know!  14hrs later and Jelly fish stings, fog, 4ft waves, humongous tankers and a pilot who lost power to his sat nav I was slowing up as the tide was taking me back up the channel towards Calais.  This was disaster as the shipping channel is busy and dangerous but the weather and tides were not working in my favour on this day and I wasn't aware of the discussions on the boat to abort the swim for everyone's safety.  My crew were encouraging me, feeding me coffee, hot squash and corned beef sandwiches and I still thought I was going to make it as I could see the lights of France getting closer.  The darkness was calming, not scary as I always thought it would be.  Still only one thing was keeping me going and I wasn't giving up.
At 11:07pm, 15hrs after we set off and 31miles, my crew made the decision to abort for the safety of everyone.    My crew looked exhausted and it felt like I'd let everyone of them and those who were following me on social media down.  It took 3hrs to get back to Folkestone harbour.  There were two parts to this challenge.  My friends, family and members of tfd helped me raise £15,000 for Duchenne Muscular Dystrophy and presenting this cheque felt amazing.  The unfinished part is just that.  I wouldn't have changed the experience for the world and can now see past the fact that to achieve good things, you are likely to fail a few times first.