Feeling stuck in a rut with your gym routine? Have you always wanted to give that class a go? But been held back by yourself… whether its self confidence or fear of not keeping up, nothing should stop you from having a go!
"never let the fear of striking out, keep you from playing the game" – Babe Ruth
If you never considered dancing due to self-consciousness, you are far from alone. Many people fear that once they get up and move, they will look foolish and that all eyes will be upon them. The fact is most people are focused on their own dancing and having a good time. Practice with a friend or take a class. Once you get on the dance floor, you might even find dancing to be a fun way to improve both your physical and mental well-being.
What it can give you (benefits)
Not only are there huge benefits to your physical health but there can be huge impact for your mental health too.
PHYSICAL:
improved condition of your heart and lungs
increased muscular strength, endurance and motor fitness
increased aerobic fitness
improved muscle tone and strength
weight management
stronger bones and reduced risk of osteoporosis
better coordination, agility and flexibility
improved balance and spatial awareness
MENTAL:
Keeps mind sharp
Reduces risk of developing dementia by up to 76%
Improves self-esteem
Boosts Mood
Eases depression
Lowers anxiety
Involves social skills
Increase endorphins
Easy to bond with others
Lessens loneliness
Helps memory
Raises pain threshold
When the feet dance along with the beat of the music, the body secretes happy hormones which help to improve your mood. Along with this, dance also helps in reducing the symptoms of anxiety and depression.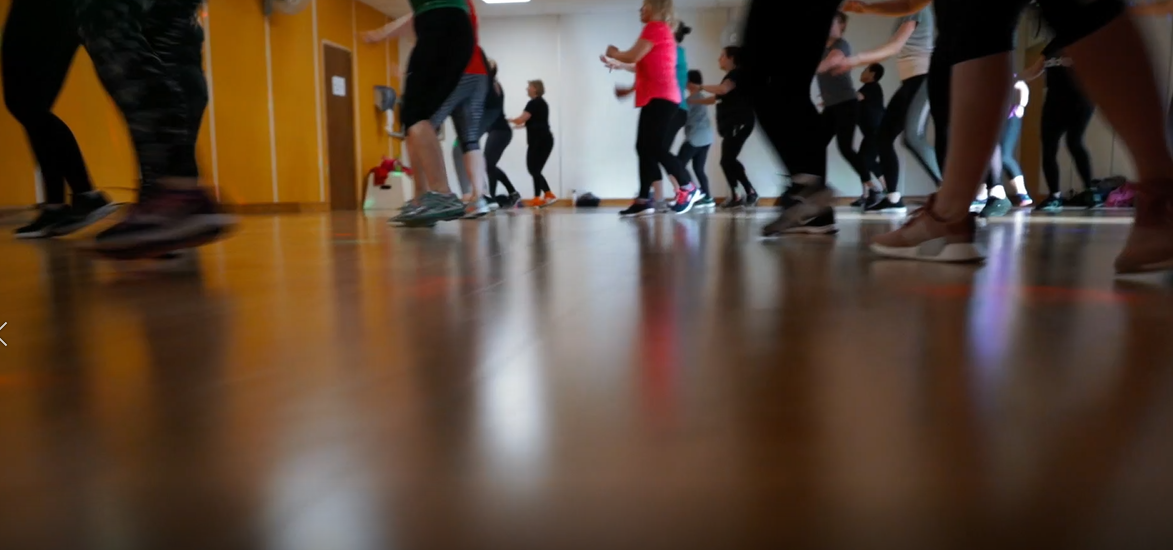 Who can do it
Everyone!! You really don't have to be an expert or have any previous experience, there are no expectations whatsoever. Any instructor would rather you showed up and gave it a go than didn't show up at all. Who knows… you might even love it!
Techniques to get you there
Struggling to motivate yourself to get to that first class? Try some of our top tips to get you there…
Go with a friend
Reward yourself for going the first time
Set an alarm to remind yourself to book on
Talk to an instructor about the class to reduce your fears
Which classes
Konga – An easy-to-follow high intensity fusion workout of boxing, cardio, dance and sculpting set to the hottest beats from all decades. Konga is a high energy cardio fitness class picks up the pace with the music and makes you use your whole body, jumping high and punching hard.
Zumba – Fusing hypnotic Latin rhythms and tantalizing dance moves, Zumba is a fun and easy workout for all ages and abilities. Combining cardio fitness with muscle conditioning, balance, and flexibility – Zumba is an energetic total body workout. Ditch the workout, join the party!
Dance Fit – A lively, energetic, fat burning & sculpting class that will get your heart pumping. Upbeat class for all round fitness & weight loss to tunes from the 80's, 90's and 00's that are guaranteed to make you sweat! Cardio, conditioning and lots of fun!
Level Up – Get your blood pumping with this high energy hip hop based step party! We've given step aerobics a level up to hip hop tunes to give you a motivating cardio class. Step to the beat as you are taken through the choreography and work up a sweat.