Enjoy this colourful bowl of Indian delights!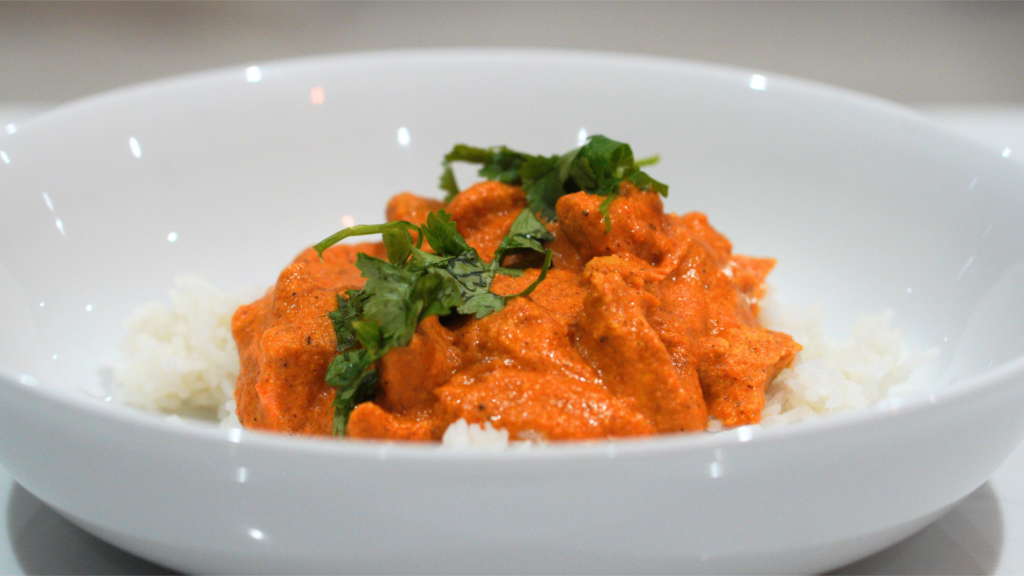 Ingredients (serves 4, adjust accordingly):
500g raw chicken breast
200g Greek yoghurt
20g butter
large white onion
400g chopped tomatoes
100g cashew nuts
300g basmati rice
ginger
garlic
Spice mix x2
2tsp turmeric
2tbsp cumin
2tbsp garam masala
2tsp dried coriander
1tbsp hot paprika/ paprika
1tsp salt
1tsbp black pepper
Prep time: 20 minutes
Cook time: 20 minutes
Method:
Cook rice according to packet instructions, salt the rice
Whilst rice is cooking, finely dice onion, mince garlic and ginger, dice chicken breast into 1 inch pieces
Put chicken in a bowl with the spice mix plus 100g Greek yoghurt and mix until well covered then pop it in the fridge.
Melt 10g butter in frying pan over a medium heat and cook onions until soft and translucent.
Add the spice mix again to the onions, exactly how you did the chicken. Then add 100g cashews, another 100g Greek yoghurt and the chopped tomatoes and mix together to combine.
Add everything in the pan to a blender and begin blending down until smooth and creamy.
Now, over a high heat, add the remaining 10g butter to the same pan, and fry off the minced ginger and garlic until fragrant, then add the marinated chicken and cook for 8-10 minutes.
Once chicken is cooked through and barely pink in the centre, add the sauce and mix to fully coat chicken, then cook for a further 2 minutes.
Portion your food into 4 equal servings and serve up with cooked rice and any sides you please.
Macro breakdown per serving…
Calories – 687kcal
Carbs – 73.8g
Fat – 23.8g
Protein – 45g
Includes 2 of your 5 a day (onion + tomatoes)
Give it a try and tag us in your cooking attempts – READY, STEADY…COOK!